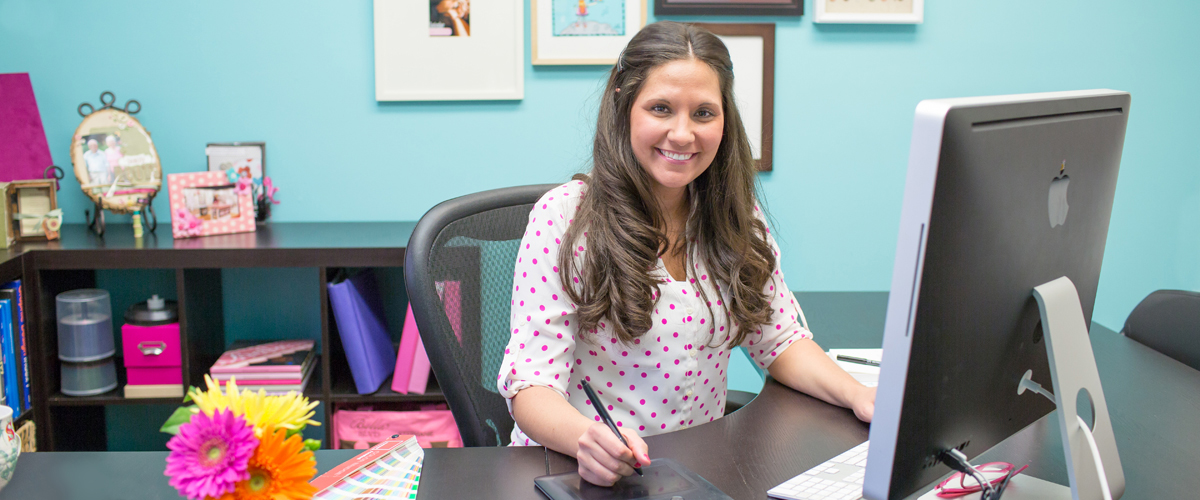 Hi There! I'm Stephanie.
The truth about me is that I have loved scrapbooking since the very first day I walked into a local store; I met the owner, and was hired the same day! Attending fine arts classes during the day, and teaching scrapbooking workshops at night became part of my daily college routine. After earning an expensive Bachelor of Fine Arts degree in Graphic Design I moved out of state to follow my love for art and design. After two years I returned home to Wisconsin with bigger dreams: to strengthen my own happiness by enjoying creative freedom, to hand-select talented people to work with, and to inspire as many people as possible. Shortly thereafter, Bella Blvd was born.
Currently I am designer and Creative Director behind the recognizably bold and graphic Bella Blvd brand. I know that it's not just the designs that make Bella Blvd so beloved, leading a talented and experienced team is what makes Bella Blvd successful. The key to our success is in our passion, our ethics and our dedication. Together we will continue to accomplish great things! Throughout the years this company and brand have brought me so much more happiness than I could've imagined. For me, happiness originates from my faith, my family and my creativity. I am most happy when I am truly inspired. Happiness has so many forms, both big and small. It is my goal with the Bella Blvd brand is to bring you happiness, if even just a little bit, through color, design and crafting.
On a more personal note, I love giggles from my son and baby girl, snuggles from my puppy, date night with my husband and a bowl of fresh popcorn before bed. My Italian heritage and tight-knit family is my pride and joy. In my "spare" time I enjoy reality television, traveling, making lists, running and the Green Bay Packers. Finally, I would love to come and teach at your store or local event. Traveling is one of the many wonderful aspects of owning this company. It's a privilege to teach fellow creatives about the Bella Blvd brand, how to mix and match and create beautiful projects with the supplies.
Want me to Teach at Your Store or Event?
For teaching inquiries please contact us at info@bellablvd.net